WI Law Enforcement
Museum of Valor
Honoring the bravery of those who protect and serve.
What began as an awards program in 1946 has now evolved into the creation of an independent, charitable organization to establish Wisconsin's only museum devoted to memorializing our state's law enforcement heroes and the invaluable public service they provide. 
Click on the map below to explore the stories of heroism in each county or search above for past award recipients. The map is currently a work in progress.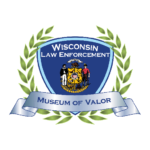 WI Law Enforcement Museum of Valor
660 John Nolen Drive, Suite 300
Madison, WI 53713
608.273.3840
Your invaluable assistance will provide the critical funding needed to construct this one-of-a-kind institution, and to support our other charitable programs and scholarships.
Contributions to the Museum of Valor are tax-deductible.
FEIN 46-3247456